Companies can both successfully overcome skill shortages and reduce external hire spending by tapping into internal talent movements. The movement of current employees to fill available jobs, positions, and geographies, simply referred to as internal talent mobility, has significantly increased in the new normal.
This year, internal talent mobility has become a C-suite-level topic, with 76% of our survey respondents rating it as important and 20% rating it as one of their organization's three most urgent issues (Deloitte Insights).
Sheu Quen is a seasoned writer with a passion for talent management in the HR industry. With 8 years of experience in the field, she's gained extensive knowledge in developing related content. Through her writing, she aims to share insights and best practices on how organisations can attract, retain, and develop their talent for sustainable growth.
If you're a C-level executive, you're asking yourself: "How can I overcome skill shortages while reducing external hire spending?" However, organizations are finding it difficult to implement proper internal talent mobility programs due to 3 major roadblocks.
These roadblocks to internal talent mobility then lead to high attrition rates as employees generally find it easier to search for new opportunities in another organization than to explore and move to new roles at their current employers.
In Deloitte's Global Human Capital Trends survey, more than 50% of respondents said that it was easier for employees to find a job outside their organization than inside. The top 3 major roadblocks faced by companies are as shown below: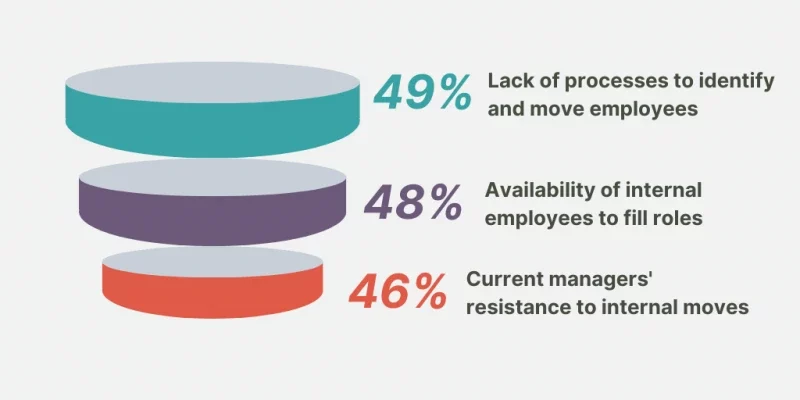 Lack of Processes to Identify and Move Employees
Trying to identify and move employees manually requires a rigorous process to be put in place. A properly structured manner to understand each employee's aspirations, skills, and traits and then match those against role requirements isn't easy to accomplish accurately. This is why companies need a technology platform to aid them in talent matching. Read more on how to identify the right match here.
Talent matching platforms take multiple talent data into account to ensure a proper profile of employees. A complete profile needs technology because it includes data from different sources such as behavioural assessments, performance reviews, career aspiration interviews, engagement surveys, 360 feedback, and much more.
The platform then takes roles, projects, and gigs available in the organizations and attaches a success profile to each to show what ideal candidates would look like. With the employee and role profiles complete, HR and managers can now quickly compare the suitability scores of employees to roles and make better movement decisions. Therefore, a talent-matching platform can overcome a lack of processes to identify and move employees.
Availability of Internal Employees to Fill Roles
When organizations face a shortage of internal employees to fill roles it is often a result of not understanding their composition of talent. Overall visibility of talents can be very low in large organizations due to a lack of constant and inclusive talent measurement. Without measurement, the management of talent movement becomes difficult.
Organizations that do not cite the availability of internal employees as a roadblock to internal talent mobility often also have a well-managed talent measurement process. This means that tools that give insights to their employees are frequently and widely used allowing for talent composition to be very visible to management.
The moment roles need to be filled, management can easily identify a suitable internal talent or make an informed decision if they truly need to look out for external hires. To learn more about tools that can help with talent measurement learn more here.
Current Managers' Resistance to Internal Moves
70% of HR professionals mention talent retention by managers as the main obstacle to internal mobility. Managers are very often reluctant to let go of the profiles that they consider to be the best performers in their team. This is especially prevalent in organizations where internal mobility is new or has not been an emphasis.
This is why internal talent mobility programs need to come with culture change and management buy-in. Implementing an internal mobility policy goes hand in hand with a culture of mobility. To benefit employees, management and the organization internal mobility must be driven not only by HR but also by management.
Building trust and allowing your employees to project themselves into new responsibilities, and offering them training will foster the commitment of your teams. The most impactful way to show your employees that remaining with your organization is the best place to pursue their goals. A healthy culture of internal mobility, in other words, helps align your firm's goals with those of your employees.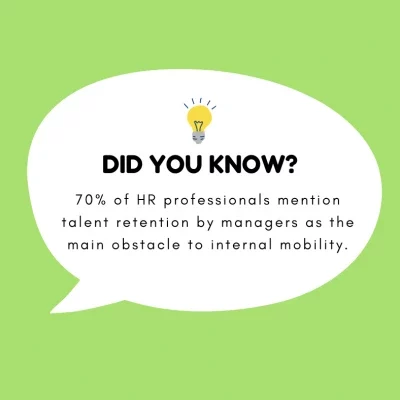 It also helps boost morale and enhances engagement throughout your organization, and helps your workers feel like they are an essential part of the company. Internal mobility is considered one of the major HR trends now because it provides answers to today's challenges companies are facing such as a competitive hiring landscape, skills shortages, lesser recruitment budgets, and non-agile workforces.
It also increases employee retention which in itself brings many benefits to organizations. LinkedIn Global Talent Trends show that employees in a company that have an internal mobility program stay on average 41% longer compared to employees in companies that don't.
A great internal talent mobility practice can be the difference between a company that attracts and retains top talent while saving money on recruitment costs, and a company that's quickly losing the battle to the war for talent. Once you overcome these 3 roadblocks, your organisation will quickly realize great ROI on talent expenditure.