Buyer's Guide: Talent Acquisition
How Talent Pulse Addresses Talent Acquisition Challenge
TalentPulse Talent Intelligence Platform
Your recruitment team are the key player in the hiring process, but even so, they need a platform to make their tasks more efficient and effective. We understand the challenges that recruiters face when it comes to managing a large volume of candidates and making objective hiring decisions.
That's why we've developed a TalentPulse, a talent intelligence platform that provides your team with solutions so that recruiters can focus on what matters, such as engaging with candidates and assessing their fit to the role, while our platform can manage the administration process, provide assessment tools to holistically identify suitable hires for your positions, and ensuring optimum candidate's experience.
What is TalentPulse and How Does It Address Your Challenges?
TalentPulse is a talent intelligence platform that uses technology and behavioural science to provide critical tools and real-time insights for talent acquisition and management. This platform helps organisations make informed decisions about talent management by gathering and analysing workforce data. With features such as succession planning, HiPo identification, career pathing, and internal talent mobility, TalentPulse enables faster execution and improved outcomes, making it an invaluable tool for implementing talent initiatives accurately and quickly.
Overcoming Challenge #1: Lengthy, Manual Processes
The TalentPulse platform can help your talent acquisition team to streamline the recruitment process by reducing the time and effort required for the manual filtering of candidates. Lengthy, manual processes of filtering candidates can be time-consuming and often result in HR professionals spending more time on administrative tasks rather than on high-value tasks such as interviewing and evaluating candidates.
a. Simplify Form to Manage Bulk Applications
By using TalentPulse's Simplify Form (Form Builder Questionnaire) feature, organizations can automate the initial screening process by collecting information from external applicants such as their qualifications, experience, and language proficiency, and invite only those who meet the minimum requirements to complete assessments.
Simplify Form Functions from the Candidate's Point of View
The steps below are only examples.
Our Simplify Form is designed to be flexible based on your screening requirements.
Following this, recruiters can use the self-service function through TalentPulse to invite candidates who have met the minimum requirements on the Simplify Form to complete their assessments. This function allows recruiters to invite candidates in bulk, monitor their progress, and send e-mail reminders, reducing the time spent on manual efforts in following up and moving candidates to complete their assessments.
b. Self-service Function: Assessment Management to Manage Your Assessment Projects
The Assessment Management feature in our platform allows clients to manage their assessment projects. With this feature, clients can easily create assessment projects tailored to their recruitment needs and requirements, without having to rely on us.
This feature allows clients to manage a large pool of candidates efficiently and send out assessments as and when your recruiters need them. This gives your team more control over the assessment process. In addition to managing the assessment process, this feature allows you to edit your e-mail communication, giving you control over your messaging and branding.
Under assessment with this feature, system admin has the ability to:
Overall, the assessment management feature is designed to provide greater flexibility, control and customization in managing assessment projects, while reducing the time and effort required to manage large pools of candidates.
c. Self-service Function: Candidate Management to Monitor Candidates
The candidate management feature in our platform allows your team to manage and monitor candidates throughout the assessment process. With this feature, your team can easily view the status of each candidate, including their assessment progress, and any other relevant information. For candidates who have not completed their assessments, the admin can send an e-mail reminder to follow up with them.
Using the filter function, admins can quickly and easily sort candidates based on various criteria on leadership, agility and culture fit. This allows for more efficient and targeted candidate identification.
Additionally, the candidate management feature allows admins to bulk download candidates' reports or export assessment scores in an Excel sheet format. This provides greater flexibility in analyzing assessment data, allowing you to conduct further analysis outside of the platform or upload the data into your existing systems for further analysis and reporting.
Under candidate management
In summary, this feature allows you to monitor a candidate's completion status. It allows your team to send e-mail reminders to candidates who have not completed their assessments. The filter function allows the admin to sort candidates to be channelled to the next stage of the recruitment process.
Overcoming Challenge #2: Subjective Decision-Making
Defining Measurement Criteria to Increase Objectivity in Hiring
When hiring for a position, it is important to define measurement criteria to ensure that the right candidate is selected for the job. These criteria should be defined before the recruitment process begins and used to evaluate candidates objectively.
Defining measurement criteria can help organizations to avoid common hiring mistakes such as selecting candidates based on personal bias or making subjective judgments.
Measurement criteria can also help to ensure that candidates are evaluated consistently, regardless of the interviewer or hiring manager involved in the recruitment process. This helps to eliminate inconsistencies in the hiring process and ensures that candidates are evaluated fairly and objectively.
TalentPulse has an assessment marketplace that helps evaluate candidates on four quadrants: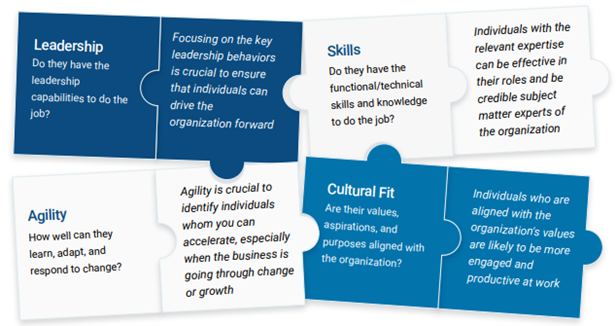 This helps recruiters to identify candidates who have the potential to lead and manage teams effectively to achieve organizational goals. These competencies are based on your organization's competencies, such as strategic thinking, ability to inspire and motivate others, problem-solving and more.
Agility consists of two major components – learning agility and cognitive agility. Learning agility refers to the individual's tendency and willingness to learn new information. Cognitive ability is the ability and fluidity to learn or accommodate new information in a short amount of time.
Agility is a crucial component to identify individuals who can adapt quickly in today's fast-paced and constantly evolving business environment. It enables individuals to stay ahead of the competition, respond quickly to customers' needs, emerging trends and remain relevant in the industry.
Recruiters can also assess an individual's fit against your organization's values. When individuals are aligned with your organization's values, they are more likely to be engaged and motivated. This may lead to improved engagement, collaboration and productivity, bringing long-term success in business.
d) Functional/Technical Skills
Recruiters can assess domain expertise through technical assessments to gauge if individuals can be effective in their roles and be credible subject matter experts of the company.
Assessing Candidates Holistically through Accendo's Assessment Marketplace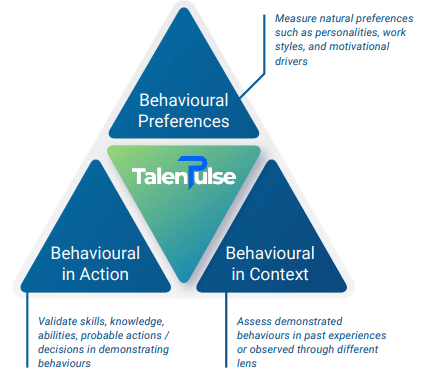 Human behaviour can be rather complex. That is why understanding a candidate holistically is extremely challenging. Relying on limited input will lead to sub-optimal understanding. To address these challenges, Accendo has designed a unique multi-dimensional assessment approach called the Trifecta. It includes.
Behavioural Preferences, where the natural inclination of an individual is measured to understand how it may influence behaviours at work.
Behaviour in Action is where an individual's skills and knowledge about a domain, their cognitive ability, as well as the actions and decisions they tend to take, are measured to understand how they would behave in a particular situation.
Behaviour in Context, where behaviours are assessed through demonstrated evidence from experience, or as observed by different stakeholders across varied situations.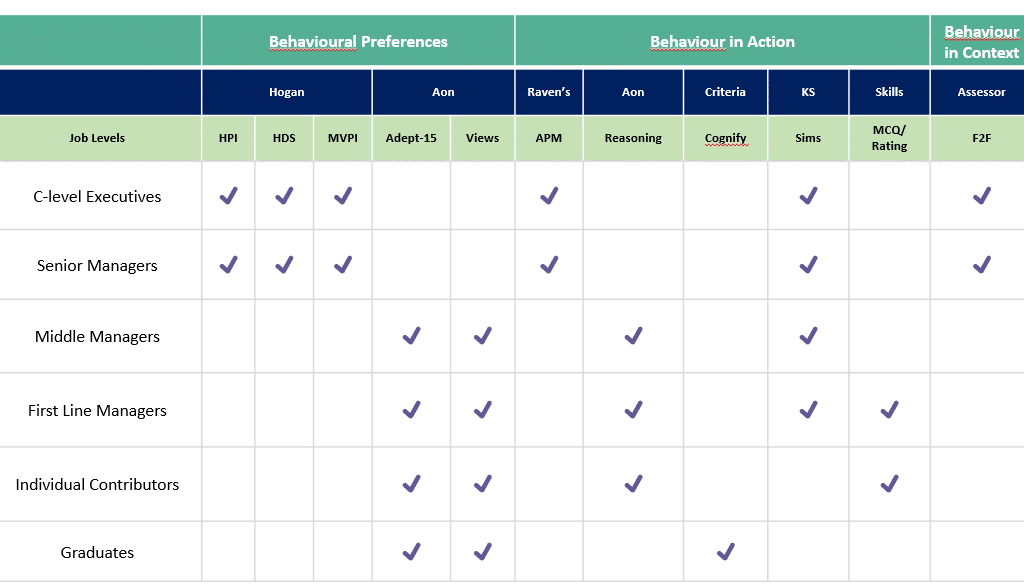 Consolidated Report in Your Context for Easy Interpretation
In a traditional method, HR professionals are often burdened with the task of dealing with multiple reports, each produced by a different assessment tool. This does not allow them to draw conclusions and can lead to delays in the hiring process or inaccuracy of interpretation. However, with Accendo, the need to interpret different reports is eliminated as our system consolidates the assessment scores from different tools into a single report. The single report is customized based on your organization's set of competencies, which creates familiarity for readers.
Our reports are designed to be easily interpreted by HR professionals without the need for 3rd party interpreters. This is because we understand that having a clear understanding of assessment results is crucial in making hiring decisions. Our reports provide a detailed breakdown of candidates' scores against your organization's competencies. This allows your recruiters to make data-driven hiring decisions quickly and effectively.
Our system can generate three different reports to suit your audience and recruitment purposes.
Recruitment Dashboards to Calculate Fit-to-Hire Score
A recruitment dashboard is a powerful tool that enables interviewers to log in using their access and provides them with pre-built questions based on the competencies required for the role. Interviewers, then use a scoring sheet to rate candidates.
The assessment scores are automatically displayed under the assessment segment, whereas the interview scores are displayed under the interview segment, based on the competency breakdown.
TalentPulse allows input from multiple interviewers and averages the scores into one single score for easier interpretation. The dashboard will display a fit-to-hire in percentage for each candidate, allowing for a consolidated view of candidate data. this feature helps recruiters to capture data efficiently, shortening the turnaround time for candidate evaluation and selection.
This consolidated view allows recruiters to make informed decisions and identify the most suitable candidates for the job.
Real-time Data on Journey Report to Track Candidate's Progress
In addition to tracking candidate progress, the dashboard also provides recruiters with a view of the overall quality of the talent pool. The dashboard averages candidates' scores on key competencies, such as leadership, agility, and cultural fit. This enables recruiters to identify trends in the candidate pool and make informed decisions about the quality of the talent pool.
Overcoming Challenge #3: Poor Candidate's Experience​
We understand that it can be quite overwhelming for candidates to complete their assessments remotely, which is why we have developed a seamless platform.
Single Sign-on for Seamless Experience in Completing Assessments
Our single sign-on feature ensures that candidates have easy access to all assessments in one place.
Workflows for Streamlined Processes
With our platform, you can streamline your hiring processes to reduce cost and time, allowing your recruitment team to focus on what matters most like engaging with candidates and important stakeholders.
Let's elaborate on some of the key workflows that leverage the platform's benefits:
Project Management and Assessment Selection Workflow: HR teams can use the platform to create and manage project folders for different job openings. Within these folders, they can select pre-configured assessment tools based on the specific requirements of the job position.
Assessment Launch and Monitoring Workflow: Once the project folder is set up and assessments are selected, HR can easily send out assessment invitations to candidates through the platform. The platform allows HR to monitor the progress of candidates in completing the assessments, providing real-time visibility into the status of the hiring process.
Automated Reminder for Candidate: The platform streamlines the process of reminding candidates to complete their assessments through automated email reminders. This reduces the need for manual follow-ups and ensures that the hiring process progresses smoothly and without delays.
Recruitment Report Generation: When candidates have completed their assessments, the platform automatically generates a recruitment report that consolidates assessment scores and provides insights into the candidate's potential. This report can be immediately downloaded (mass download) and used as a basis for candidate selection and interviewing.
Competency-Based Interview Questions: The recruitment report, in addition to assessment scores, includes suggested interview questions based on the competencies for the role. These competency-based interview questions follow the STAR interview format. This format prompts specific examples or situations where candidates display these competencies, which predict future job performance.
Interviewer Dashboard and Role-fit Percentage: Interviewers can be invited to use the platform's interviewer dashboard, which allows them to capture their findings from the interview sessions. Additionally, the platform calculates a fit-to-hire percentage based on a combination of assessment scores and interviewer feedback, providing valuable insights for final candidate selection.
In conclusion, our platform allows HR to:
eliminate the need for third-party implementers due to its self-service functions

reduce the need for third-party interpreters as our consolidated hiring reports are easy-to-read and be interpreted

consolidate data, such as assessment scores and interviewer's scores to form a more holistic view of candidates, which allows richer decision-making in hiring for high-performing talents.
Assessment Reports for Deep Candidate Insights
TalentPulse consolidates all assessment scores into a single report to save time.
A consolidated report is beneficial as it:
Is customized on the client's framework and definition (unless you are using Accendo's standard framework, such as the graduate model and HiPo model

Can be easily read and interpreted by HR, hiring managers, and candidates

Removes the reliance on third-party consultants to interpret the report

Removes the need to interpret multiple assessments as a result of using more than one tools

Contains dynamic texts that change according to the candidate's scores against each competency
For Recruitment:
There are three reports that can be configured in the system:
Snapshot report
Recruitment report
Recruitment report (extensive)
In a nutshell, these reports provide you with the results of the candidates during the assessment. It explores the candidate's competencies, motivators, and aptitude in the context of an organisation. The candidate's responses in the assessments have been benchmarked and compared against a global norm.
The results in this report should be considered alongside other available information. The aim is to help you discover and reflect on the candidate's strengths and improvement areas to drive the candidate's success in the organisation. However, do note that the candidate's actual behaviours may also differ and shift over time depending on the situation and environment.
How to read the report?
The assessment marketplace allows you to use a combination of tools to gain a holistic view of a candidate's potential. To understand how we combine multiple constructs from assessment tools to your organisation's competencies, please click HERE to understand more about competency mapping.
TalentPulse combines the assessment scores and converts them into sten scores. These ten scores are compared to norm levels to determine their relative standing. Comparing scores to norm levels provides valuable information about the candidate's standing against the norm group.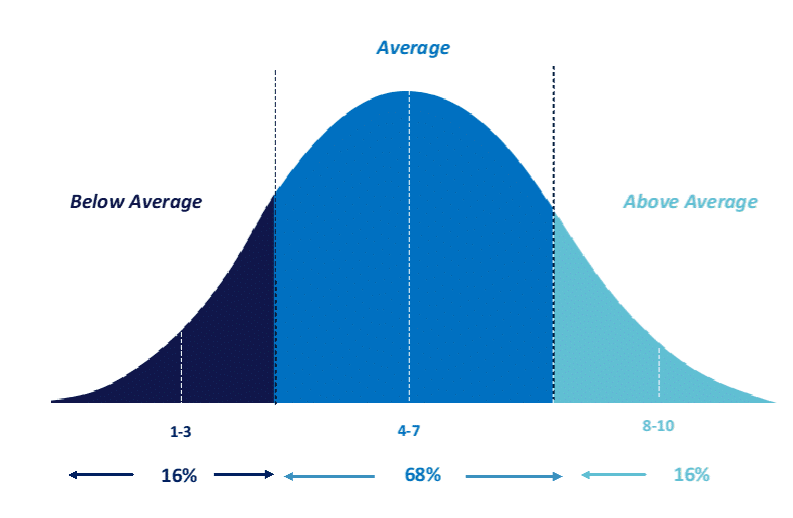 Typically, the scores displayed in the report range from 1 (lowest) to 10 (highest).
Low score: 1 – 3
Average score: 4-7
High score: 8-10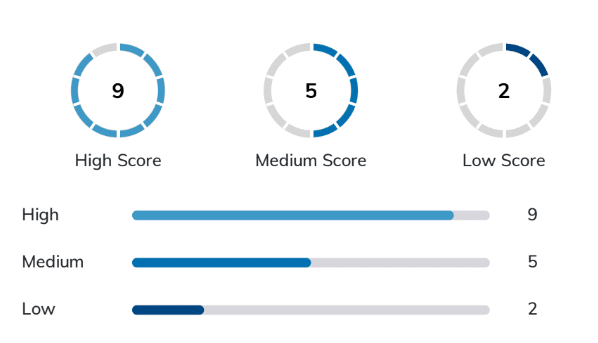 Snapshot report: This snapshot report provides hiring managers a snapshot of their scores against each competency and the candidate's motivation (top 3 and bottom 3)
Recruitment report: This report provides you with the results of the candidate during the assessments. it explores the candidate's competencies, motivators, and aptitude in the context of an organisation.
Cover and Introduction Page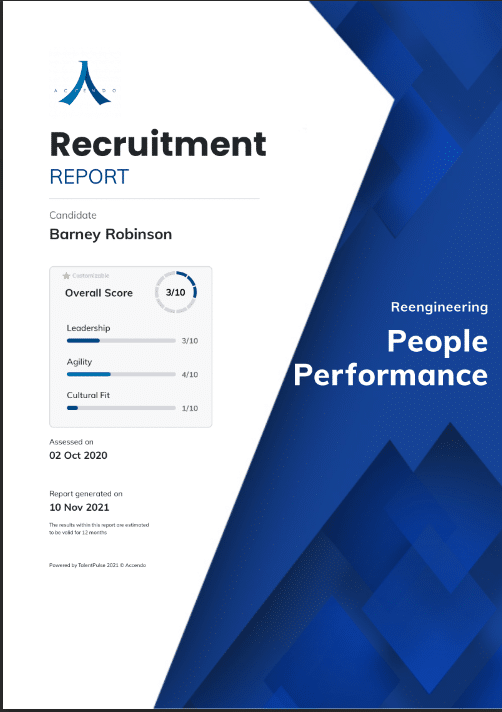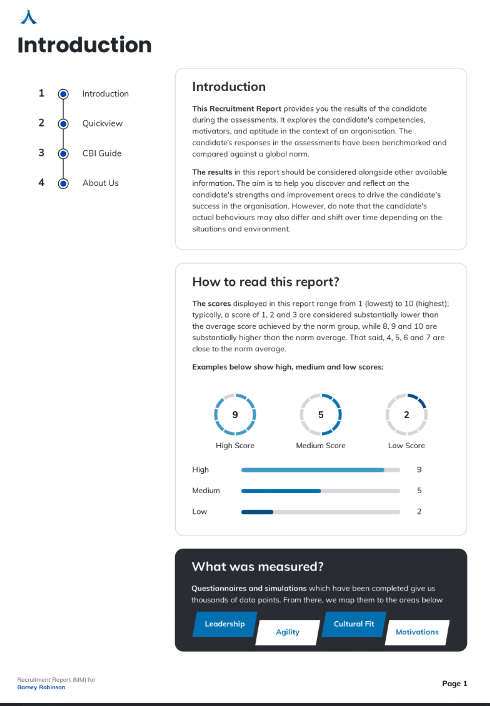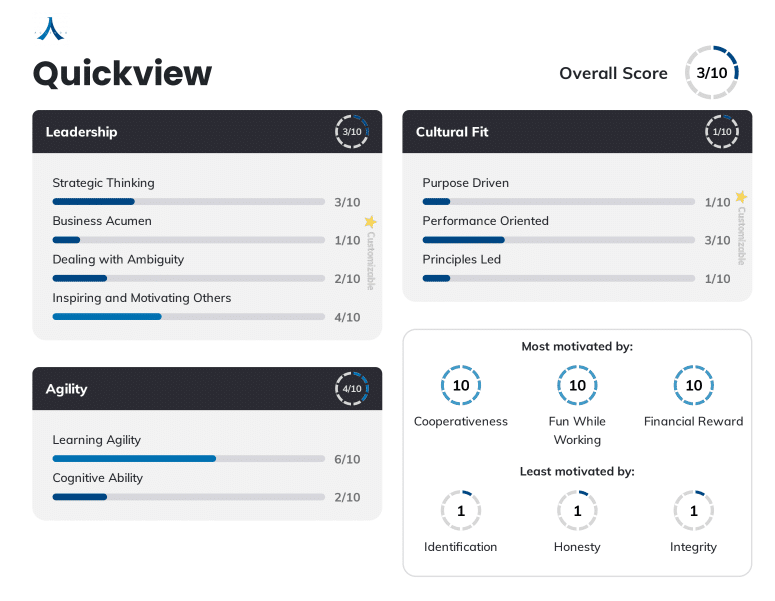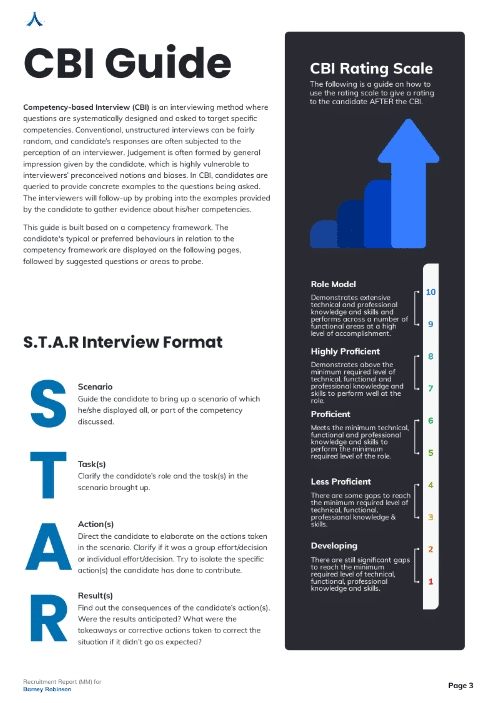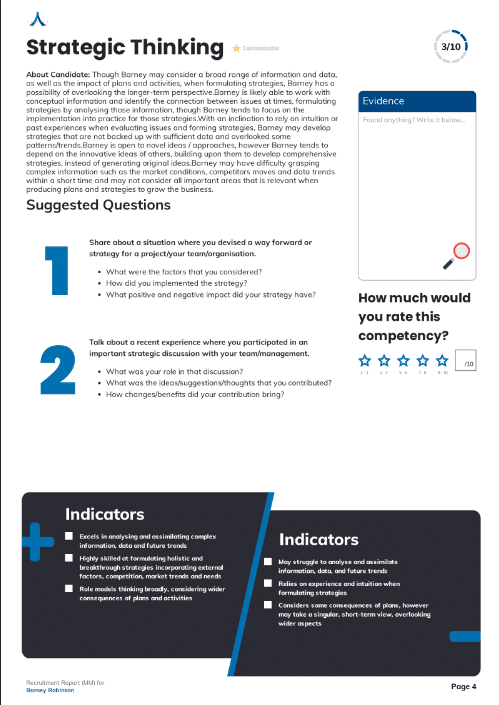 1. Recruitment Report (Extensive):
This report is an extended version of the recruitment report. The difference between a recruitment report and recruitment report (extensive) is that the extensive report has a section where implications will be shown when a candidate scores high or low in a competency. It would provide a more definitive pattern of behaviour.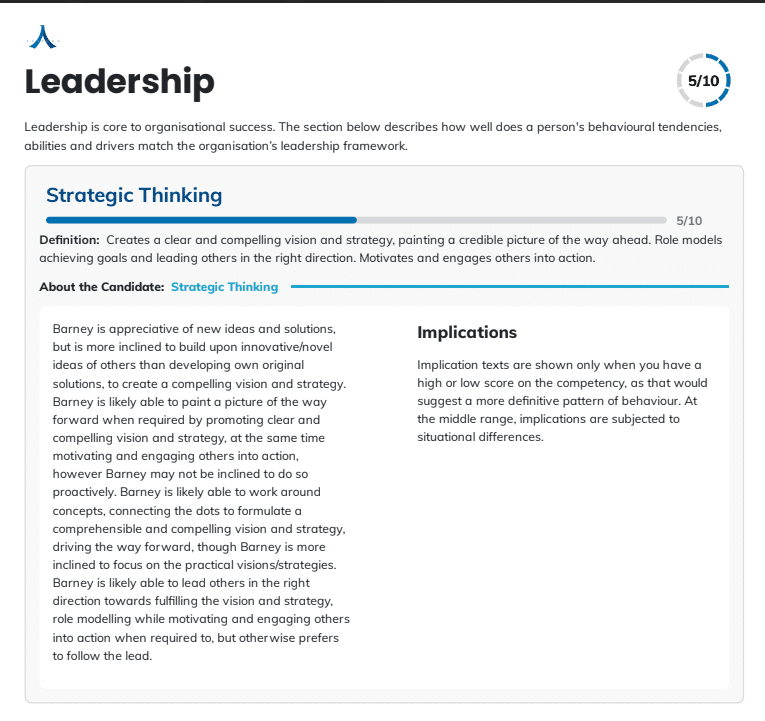 Dashboards for at-a-glance visibility
For Recruitment:
TalentPulse has real-time insights to monitor assessment progress and identify talents for speedy and accurate decision-making in hiring:
Dashboards Available on Assess Package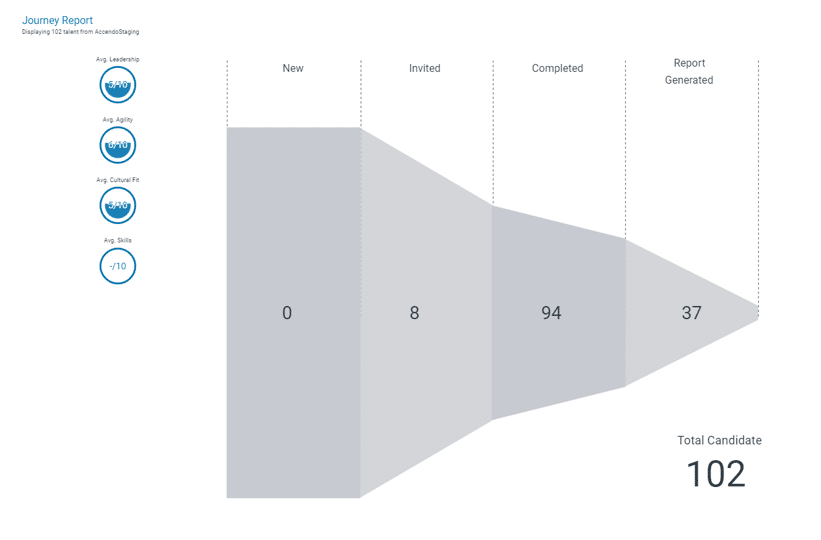 Real-time tracking of overall group progress to help improve assessment monitoring efficiency
Snapshot view of the average scores of the candidate pool across measured areas, such as Leadership, Agility, and Cultural Fit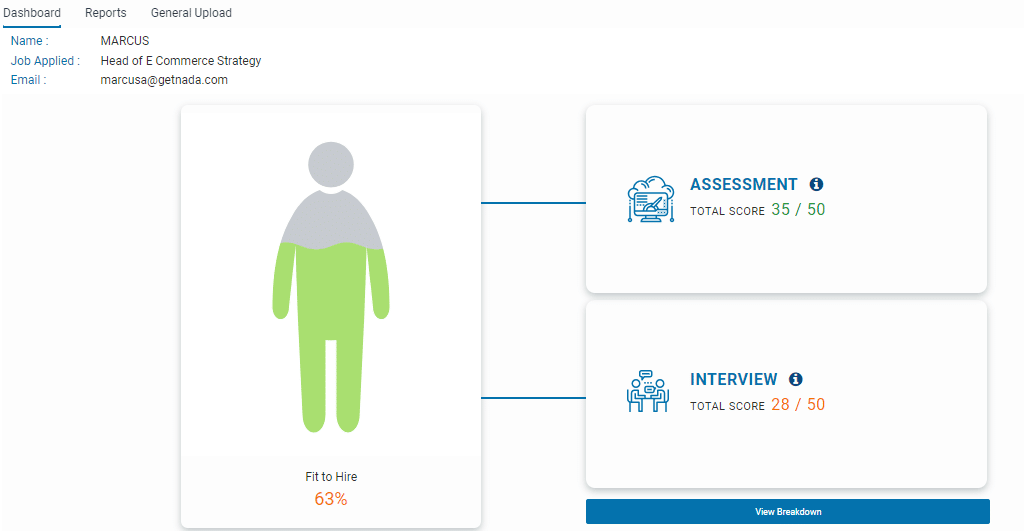 Assessment section: view candidate's scores on competencies for Leadership, Agility and Cultural Fit
Interview section: view interviewer(s) scores on the candidate's competencies, including technical competencies, where required
Fit-to-hire: The system averages the scores from assessments and interviews to find the percentage of fit-to-hire