Talent acquisition is more than just a sophisticated way of recruiting. It is a strategic approach to identifying, attracting, and onboarding top talent to efficiently and effectively meet dynamic business needs. Learn more about how beneficial a talent acquisition strategy is to your company with these 6 key elements.
Experiencing a sudden and unexpected vacancy in a crucial role can put your organisation or the relevant department in a vulnerable position. This means that your recruitment team needs to take extra steps to find the best possible candidate right away.
But wait! 
What if you already have a pipeline of qualified candidates who are aligned with your organisation's mission and objectives? According to research, 65.7% of organisations say that building a talent pipeline is imperative for the future. 
Applying the concept of talent acquisition can help you anticipate and prepare to fill the vacant roles. It can also help to create new roles as your organisation grows. In our previous article, we talked about talent acquisition, whether you should hire or acquire talent, and its best practices if you shifted from recruitment to talent acquisition.
In our article today, assuming you have moved over to talent acquisition, we will highlight the importance of a talent acquisition strategy, how these strategies differ for each type of company, and what are the elements needed to build an effective talent acquisition strategy.
Why is Talent Acquisition Strategy Important?

How Talent Acquisition Strategies Differ for Each Company 

The 6 Elements of an Effective Talent Acquisition Strategy 
Why is Talent Strategy Important?
By now, many are familiar with the Great Resignation in November 2021. More than 4.5 million employees resigned in the U.S., leaving employers to scramble in their efforts to fill the pivotal roles. Adopting a long-term focus and approach to talent sourcing and hiring can prevent your organisation from falling down the talent black hole.
Talent acquisition considers the potential employee's possible career path in your organisation. It ensures you hire the right people who can eventually become future leaders. Without the right people, your business can struggle with low productivity, poor decision-making, and unmotivated employees. Here are six reasons why you should adopt a talent acquisition strategy.

How Talent Acquisition Strategies Differ for Each Company
Not all successful talent acquisition strategies use a "one size fits all" approach. Planning and implementing will differ depending on several factors, including:
Industry type

Company size

Brand name

Budgetary constraints

Employment opportunities

Competitor pressure
Top-tier organisations with thousands of employees, such as Microsoft, Google, or IBM, talent acquisition will likely be more of the growing and retaining of talent. That is because these organisations have a wider pool of talented individuals that is available for them to pick from.
Medium-Sized Corporations
Mid-level organisations with between 500 and 1,000 employees may not have the advantage of a wide talent pool of candidates or a huge war chest for salary and benefits. In such cases, a well-thought-out talent acquisition strategy could be formulated for two segments – those that are well-known and those that are still brand new.
Small Companies and Start-ups
Smaller companies and startups may have limitations in their approaches when acquiring top-level talent as they often have to work on a limited budget. For instance, they could use freelancers or work with universities. They could also offer loyalty programs for employees or participate in various business development programs.
The 6 Elements of an Effective Talent Acquisition Strategy
Regardless of the size or scope of your business, talent acquisition must always be taken from a strategic approach. And scouting for top talent is easier when you have a great talent acquisition strategy in place. 
Listed below are six elements of what an effective talent acquisition strategy should include.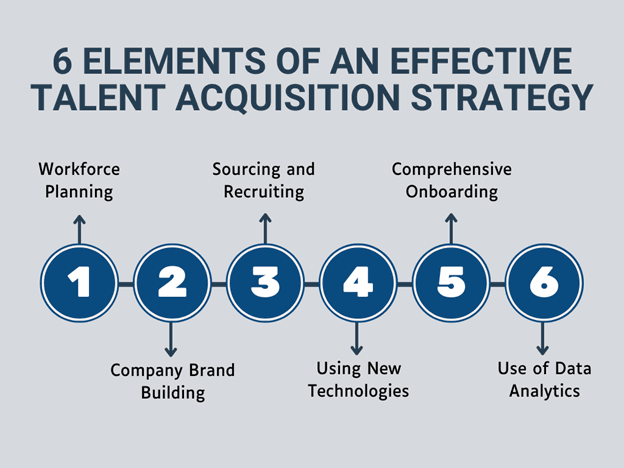 1. Conduct workforce planning
Workforce planning is a basic step in developing an effective talent acquisition strategy. It is the process that your organisation uses to analyse its workforce and determine the steps it must take to prepare for its future staffing needs.
Planning includes the alignment of business objectives, an examination of workforce plans, an understanding of the labour market, and global considerations.

Workforce segmentation includes an understanding of the different workforce segments and positions within these segments, as well as the skills, competencies, and necessary experiences.
2. Build your company brand
Employee branding includes activities that help to articulate and define your company's image, culture, key differentiators, reputation, and products and services. It also helps to advance the market position of your organisation, attract quality candidates, and depict what it is like for a candidate to work for you.
According to a 2015 LinkedIn research, 62% of professionals across 26 countries ranked employer brand as the deciding factor when applying for a job. Recruiting and acquiring talent via social media has moved well past the tipping point, with:
84%

of organisations currently use social media to hire and acquire talent

82%

of organisations use social media to recruit passive job candidates
A strong company brand is critical. If you don't tell your story, others will do it for you.
3. Sourcing and recruiting
Sourcing internally for talent has a cost and other advantages over external sourcing. According to the Bliss-Gately "Cost-to-Replace-Tool", the average cost to replace an employee is 150% of the employee's base salary.
When looking for candidates, you should start by looking internally first. After all, employees value career development opportunities and upward mobility, and these are keys to talent retention. At the same time, succession planning can facilitate internal sourcing by identifying and preparing suitable employees to fill key positions when current employees leave.
Referrals are still the primary source of new hires, with some companies turning every one of their employees into recruiters. Career and leadership development programs also provide enriching opportunities to improve skills and knowledge.
4. Using new technologies
According to a study, 86% of active candidates used their smartphones when searching for jobs. As a result, some of the more common mobile recruiting steps that organisations have taken include:
Optimising their career websites

Optimising job postings

Optimising their application processes for mobile users
Offering candidates a clean, simple, and well-branded mobile presence allows your organisation to focus on ways to grab their attention and differentiate the job opportunities. Companies that maintain their branding, allow the ease of signing up and applying to jobs and integrate fast account creation and logins with social media have a better chance of attracting talent.
At the same time, applicant tracking systems are improving. More intuitive user interfaces and improved integration capability are providing better and more positive candidate experiences. Integrated assessment tools and robust analytics are paving the way for better talent acquisition strategies. After all, the goal is to predict whether a candidate is suitable for the job, the team, and the company. 
5. Comprehensive onboarding
Onboarding is a systematic and comprehensive program that helps to integrate new employees into your company and its culture. This program gives new employees the tools and information necessary to become productive members of the team. Executing this program can go towards ensuring high retention rates.
According to an Aberdeen Group study:
86% of respondents felt that a new hire's decision to stay with a company for the long-term is often made within the first six months of employment.

66% of companies with onboarding programs claimed a higher rate of successful assimilation of new hires into the company culture.

62% of companies enjoyed higher time-to-productivity ratios.

54% of companies reported higher employee engagement.
The end of the first year typically signifies the transition from on-the-job training to continuous development. While using the right technology is great, personal touch is still required. Technology may rule recruitment but courting top talent still requires a personalised message and a promise that their career will flourish long after they have joined the company.
Data analytics can improve the effectiveness of a talent acquisition strategy, determine job competencies for each role, and measure candidates' potential performance before making a job offer.
According to a Deloitte Talent Analytics report:
75% of HR executives agree that analytics is a crucial driver of organisational success.

56% rate their own skills in workforce analytics as poor.

40% say they don't have the resources to perform

talent analytics

.
Figuring out how to measure the quality of hire is a significant challenge for most companies. After all, there is no one-size-fits-all metric as it depends on the company's business priorities.
As the talent market moves towards performance analytics, the role of HR metrics has grown dramatically. Organisations should learn to embrace predictive analytics. You may not need to hire a full-time data analyst, but you should be able to measure the effectiveness of all aspects of their recruiting and acquiring efforts.
A stellar talent acquisition strategy is not something organisations can build overnight. It needs the right amount of time and resources to kick it off. It's important to understand where the company stands in the market, what the company goals are, and what needs to be improved in a company's hiring process before creating a powerful strategy.
Like what you are reading?