Global Beverage Giant Leverages Accendo Assessments to Drive Employee Upskilling and Career Development
Create Targeted Developments Plans for Their Seniors Managers
It is widely accepted that the greatest investment a company can make is in its own workforce. With a large volume of employees spread out across 10 countries in Southeast Asia and the job market as competitive as it is, it was imperative for the company to reinvest in the people who helped achieve success by creating, coordinating, and implementing the targeted development plans for its senior managers.
The company has very high standards across everything they do. Instead of having everyone go through standardised training programs, they decided to leverage the power of assessment tools to serve two key purposes.
First, the company should provide deep insights to each individual that would encourage and motivate them to appreciate and absorb the learning programs they were going to go through. And second, the insights would serve as a means to assign relevant projects for the senior managers to gain hands-on experience in order to provide holistic development. In addition to this, the employee experience needed to be top-notch and reflect the company's values.
A Comprehensive Assessment Solution to Provide Deep Insights
In order to achieve these objectives, the company realised they needed insights from multiple sources. Relying on a single assessment tool would at best be a partial solution. The insights should come in from other sources, including 360 feedback and professional assessors. But the company also knew that multiple tools would mean multiple reports, and their HR team would find it tedious to go through multiple documents. And it would fall on them to consolidate the data into a single meaningful report, which would be challenging given the team's other projects and priorities.
At the same time, the company wanted to create a unique experience that would have a strong affinity with the learners and strengthen organisational bonds. They also knew that the reports needed to be relevant from a development perspective with insights that all stakeholders could easily understand and apply.
Thus, the company began their search for an ideal solution within its extensive network of global suppliers. But they quickly realised that none of the traditional solutions met his requirements. The need of the hour was a solution that genuinely understood customer needs and pain points, combining speed, accuracy, insight and experience in one single platform. And that's when they were introduced to Accendo. 
Their first encounter with Accendo was through a 360 feedback project that was delivered seamlessly on time and on cost. With this positive experience in mind, the company explained the challenge to Accendo's consulting team, who not only understood immediately what the company was aspiring to achieve but were able to add value to their desired solution through new ideas.
After a series of discussions, Accendo's consulting team began working on a solution which included the following elements:
Deeply insightful assessments
Accendo's solution met the desired  brief and incorporated multiple tools:
Psychometric assessments from Hogan for gauging behavioural preferences
Knolskape simulations for gauging behaviours in action
360 feedback for gauging manager and peer inputs
Professional assessor inputs for gauging behaviour in the context
A fully customised report to deliver a wholesome experience
Accendo's team created a specially designed report that not only reflected the company's branding guidelines but also incorporated insights that would be specifically relevant to their aims and objectives.
A digital "high-experience" platform
Accendo's Talent Intelligence Platform – TalentPulse – was leveraged and configured to reflect the company's competency framework, assessments and reporting. The platform enabled them to provide their employees with a modern, digital experience that enabled an efficient rollout along with a standardised assessment approach.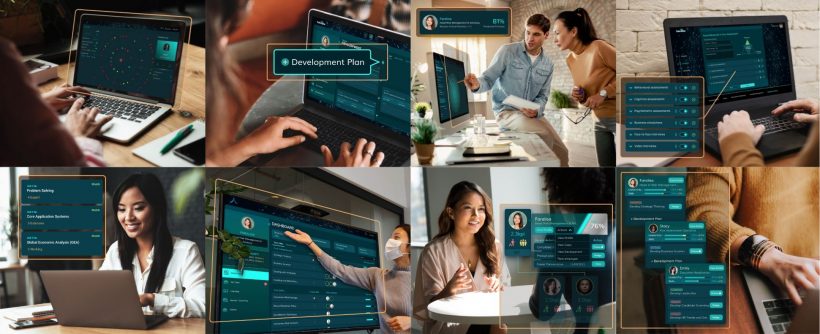 The Company Accomplished Their Leadership Assessment and Personal Development Plans
Overall, the company was extremely pleased with the decision to work with Accendo. They were proud to announce the success of holistically assessing their leadership team with assessment tools such as psychometric assessments, 360 feedback, and face-to-face interviews.
These tools gave them an understanding of their candidates' role alignment by gaining deeper insights into these candidates and fueling the growth of their leadership skills, behaviours, and agility. The reports generated from the assessments were customised for easy understanding and application by their leadership team to analyse the insights and the assessment results.
Armed with data-driven insights, the company can now close the gaps between the employees' skills and capabilities which are aligned with their aim of developing a talent and employee development process. In the time taken for them to follow through with the project, the company was able to assemble all the assessments in one place instead of having them scattered across multiple vendors. This allowed them to improve their performance and productivity, and create a more positive and engaging employee experience that is in line with its branding.
About candidates' role alignment 
Ths process close the gaps between the employees' skills and capabilities 
Reporting of assessments from multiple vendors
Transform Your Company Today
Reach out to us and we can get your company to its best potential faster than the speed of change.