Accendo Technologies, the only Asia headquartered talent intelligence platform, is hosting its second episode of its Fireside Chat focused on Talent Management and Talent Acquisition topics. After an overwhelming participation in the first episode, Accendo's second episode aims to bring a refreshingly different approach on talent management issues – an engineer's perspective on all things talent management.
The virtual event will be held on Thursday, June 9th, 2022 at 3:00 PM MYT, with TNB Head of Talent Shahrul Nizam Md Nur, as our guest speaker. A former engineer turned HR manager, Shahrul was informally involved in HR matters when he was a line manager, and learned how to apply his engineering lessons in HR. He was also involved in the Discovery, Design, and Delivery of the organization culture transformation at TNB. Today, he is the Head of Talent Management at TNB, managing top talents and preparing them to step up as succession management to the critical positions in the company. According to Shahrul, managing talent is like managing a football team. It is how talent data and gamification helped him to "monetize" the talents and help in providing informed decision making on talent management.
Sharma Lachu, CEO & Founder of Accendo Technologies Sdn. Bhd. will be moderating the event.
| | |
| --- | --- |
| Date and Time: | Thursday, June 9th, 2022 at 3:00 PM MYT |
| Venue: | Click here to register |
| Topic: | Engineering the People Experience |
| Speakers: | Shahrul Nizam Md Nur, Head of Talent at TNB |
|   | Sharma Lachu, CEO & Founder of Accendo Technologies |
How to Register?
Attendees will be a part of an event where they can learn from the best in talent management. Registration is free and all attendees will receive a personalized game-based assessment report.
Go to www.accendotechnologies.com.
Under the Resources tab, click 'Events & Recordings'.
Select 'Future of Work: Engineering the People Experience at TNB' under Upcoming Events.
Fill up the form to register.
About the Webinar
The future of work continues to accelerate as more people are expected to be productive and engaged in the workplace. To meet these new expectations, organizations need to rethink how they design their employees' experiences. When employees have a positive experience, they show a greater sense of belonging, purpose, and achievement.
Our Fireside Chat, Ep. 2 revolves around the topic of engineering the people experience with Shahrul Nizam. Whether you want to transform your organization culture, increase employee engagement, or attract better talent, this webinar will provide you with actionable insights on how you can optimize human potential in your organization moving forward.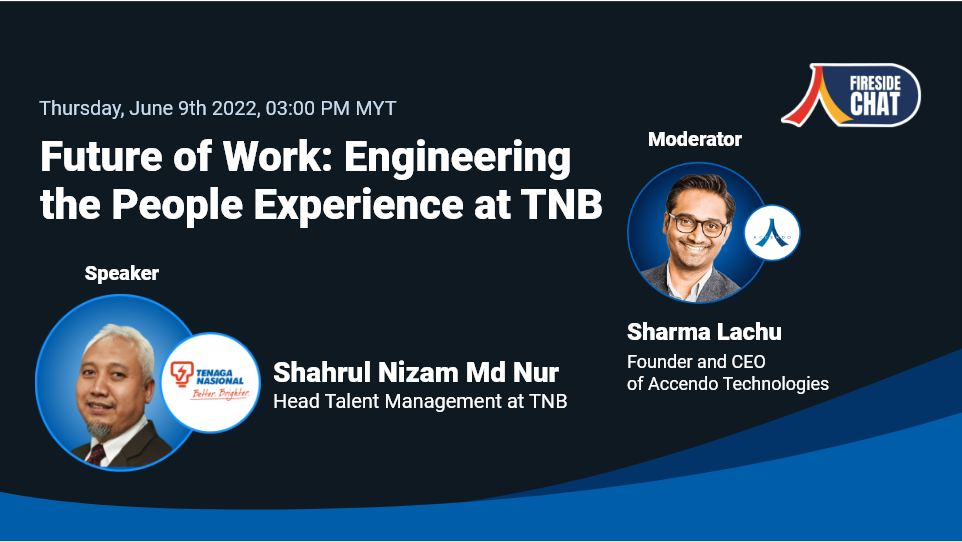 Don't Miss Out!
Here are three reasons why you should attend our webinar:
Learn from the experts on how to invest in talent and prepare for uncertainties
Learn how to harness technology to elevate work experience
Gain insights into redesigning the workplace environment to optimize human potential
For more information on the event, please contact ([email protected])