Those familiar with the Disney cartoon Aladdin might recognise Aladdin as a high potential candidate that Jafar, the Royal Vizier of Agrabah, personally handpicked to steal the Genie's magical oil lamp. In Jafar's eyes, Aladdin was a thief, lightning-fast on his feet, and capable of pulling off the theft. Aladdin was the diamond in the rough.
Speaking of high potentials, in any organisation, there will always be a diamond in the rough or two (or more, if you have already identified them). But what about potential talent? How do you identify them? Are they hiding within the pockets of your organisation, yet to be recognised as your top talents?
Fret not, the battle for talent retention has only just begun. To look at how to retain talent and high-calibre employees, start with why they leave. 
How to Thrive in the Midst of Talent Shortage
Compensation today is no longer the only game-changer in the workplace. With the pandemic flipping us like pancakes, focusing on compensation alone is neither sustainable nor effective.
It's safe to say that everyone is already aware of the Great Resignation. Call it what you want – the Great Reshuffle, the Great Evaluation. Bottom line is, the mass resignation led to employees leaving their jobs when they stopped to reconsider what is most important to them. Some took it as early retirement, while others left their jobs to care for their children. Yet, it is not that everyone is leaving. It is not talent that is resigning; it is the people who are seeking other better opportunities to bring more meaning to their lives and feel more rewarded at their jobs. The question is, how do we keep the talent pipeline sufficiently flowing to meet evolving business needs?
According to the U.S. Labor Department, the percentage of employees voluntarily leaving their jobs stood at 4.5 percent in November 2021. To add salt to injury, organisations now are finding it harder to attract talent replacement. A study by WTW (formerly Willis Towers Watson) found that 73 percent of 380 employers surveyed in 2021 were having difficulty attracting employees. Another 70 percent of companies say that the problem will continue to persist in 2022.
Bringing in new employees is challenging, time-consuming, and expensive. Now, more than ever, organisations should focus more on retaining the talent they have. What you need, as an organisation, is to focus on ensuring you have a talent pipeline ready to bring business continuity. How do you identify and recognise your top talents? Now is an even better time than ever to use the 9-box talent matrix.
Using the 9 Box Talent Matrix for Talent Retention
When conducting your talent retention strategy, there are two dimensions to consider – an employee's current contribution and future potential.
Your assessment of an employee's current contribution will adapt towards their teams' performance to ensure significant recognition and reward.
Your assessment of future potential can help to identify individuals with high potential and growth and promote them into future leadership roles.
At the end of the day, you want to identify the potential team members for future leadership roles. Improving employee performance enables organisations to increase their job satisfaction and increase retention rates.
What is the 9-box talent matrix?
The 9-box talent matrix was developed by GE-McKinsey in the 1970s and has been extensively adopted by HR organisations worldwide ever since. Many may ask today, is it still relevant? Yes, especially in this ambiguous pandemic timeline.
The 9-box matrix is a systematic method for identifying high potential employees and is one of the most crucial elements of developing a solid succession plan (AIAHR, 2021). Organisations use the matrix as a tool for talent assessments, keeping an eye out for diamonds in the rough (potential gems), and prioritising employees for additional training and leadership development.
Managing Talent Amidst the Pandemic
The world may continue to spin amidst the pandemic but big organisations will continue to pay their undivided attention to business continuity. The Great Resignation has and will continue to impact the efficiency of your HR's efforts and processes within your organisation. This means that using the 9-box matrix for your talent retention strategy is more important than ever and how it can help with the following scenarios.
Succession management and talent retention
Conducting traditional talent identification today is challenging, primarily because of social distancing. With the pandemic on loop, you cannot afford to wait for talent to seek you out or risk being left behind. While sourcing external candidates and internal recruitment can be difficult, it is not impossible. The 9-box matrix can help you identify the roles that are key to your business success while you build a talent pipeline of suitable and ready successors.
Talent development and mobility
When lockdowns and social distancing became essential, your first move was to cancel all training events. When financial difficulties set in, training budgets were cut. But deep down, you know training and development are crucial. So, you implement mobility programmes. In the post-pandemic landscape, however, it can be difficult to comprehend "talent mobility". How do you rethink mobility? By assessing, developing, and engaging!
A ready workforce that is committed
Talent management effectiveness varies from one organisation to another. You may have a few formal processes and talent management technologies in place but are effective. A frequently overlooked element is the opportunity for growth and development. According to  research by IBM, employees were 42% more likely to remain with a company long-term if they received training to improve their performance at a higher level.
This begs the million-dollar question: Is your talent management strategy ready for whatever normal will be moving forward?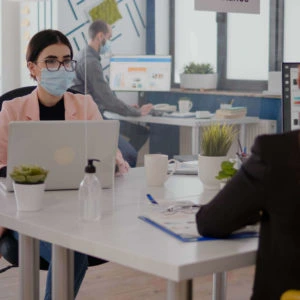 Wrapping Up
The pandemic will continue to reset major work trends worldwide and as an organisation, you will need to rethink your workforce and talent management strategies. Sparking conversations around succession planning and identifying high potential talent are two of the heaviest topics. Yet, you know they must be done.
At Accendo, we know how crucial securing a talent pipeline is for business continuity. We assimilate the 9-box talent matrix into our succession planning strategies so that it's customised, automated, and scaled to your business needs. You can get a feel for potential talent, what training they require to bridge critical gaps, and what extra assistance is needed in reaching performance goals. In other words, we can help you designate and divide resources.
Additional Resources for Succession Planning