Succession planning is a focused process for retaining talent in the pipeline and ensuring that vacant roles can be filled almost instantly. The fallacy that many business leaders and HR practitioners believe is that succession planning is a complex process and practice restricted to the largest organizations that have big budgets and sophisticated tech. On the contrary, succession planning is of great value to organisations of any size and can be done at different scales according to organizational capacity.
Some key reasons why organizations must have a solid succession planning process in place are:
To avoid talent scarcity as natural attrition happens.
To identifying skill gaps and training needs early on.
To retain employees with valuable tacit knowledge.
To boost morale and engagement amongst employees.
To reduce cost by building instead of buying talent.
Without a succession planning process in place, companies will not only face skill shortages but will also incur financial impact. In fact, according to a 2013 Mercer study, unfilled and unplanned vacancies cost companies about 50 per cent more in lost revenue than the salary for the vacated job itself.
The TalentPulse Approach to Succession Planning
The TalentPulse Succession Planning module aims to help talent teams in 2 key areas – speed and accuracy. These two areas have been rated as being of primary importance to HR and business:
Speed: The pace of succession planning today must be aligned with the speed at which business moves. This means that vacant or new roles must be filled quickly. Traditional succession planning in larger organizations takes 6-12 months to complete, and 3-6 months in smaller and mid-sized businesses, With TalentPulse, Succession Planning can be completed within 3-5 months in larger organizations, and 1-2 months in smaller and mid-sized ones.
Accuracy: Promoting the wrong person can cost a company up to 30% of an employee's annual salary, not to mention other intangible damages such as lower morale and loss of engagement. TalentPulse provides accurate, validated, holistic and reliable measurements of an individual. This offers a more accurate indicator of an individual's performance, and thereby reduces the risk of a wrong promotion.
The TalentPulse Succession Planning module beings with accurate talent measurement via its Assessment Marketplace. HR teams can get transparency on their organization's talent composition and understand individual employee skills and highly targeted development gaps that need to be addressed. The Assessment Marketplace includes pre-integrated best-of-breed assessment tools that measure key areas including Leadership, Culture, Agility, technical skills and more.
HR teams can configure assessments for employees at different levels from the following different tools available at their disposal:
Psychometrics
Simulations
Cognitive
Cultural
Technical
360 feedback
The assessment tools can also be supplemented with performance data, engagement scores, aspirations, rewards and other sources through seamless data integrations.
Formation of a Measurement Framework
The use of assessment tools in combination enables companies to view employees through a holistic measurement framework. TalentPulse uses the 4-quadrant framework as described to allow HR teams to get a structured view of employees. HR teams can now see exactly where each employee's strengths and development gaps are. It is advisable to adjust the weightage of each quadrant according to the role or job level to be reflective of what's needed for the job.
Success Profiles
For companies to understand "what good looks like" for roles in their organization, they need to have well-conceptualized, validated success profiles. Success profiles articulate role descriptions, job accountabilities, technical skills and the leadership competencies needed by a person to successfully perform at the role. It is equally important for these success profiles to be globally validated to ensure that your organization is not under or over-inflating a role.
The Success Profile Library in TalentPulse offers over 3000 jobs across your organization. In addition to standardizing job accountabilities, success profiles also provide detailed descriptions on the competencies needed for a job and rank them according to their importance and expected proficiency level. Giving visibility to employees to access success profiles themselves also promotes self-learning initiatives, because now employees have a clear view of competencies they need for their current role and aspired roles.
Talent Matching
An extremely powerful feature of TalentPulse is the automated Talent Matching algorithm. Talent Matching is a process in which TalentPulse produces a fit score for employees for roles, projects or gigs based on their assessment scores. With this, you now know exactly how well suited a person is for a new assignment prior to mobilizing them. This drastically reduces the chances of a wrong move. It also enables HR teams to discover hidden gems who would otherwise have missed out on the opportunity.
The Talent Matching algorithm allows HR teams to explore up to 5 different assignments for each employee,.
Once the employee and talent measurement data are collected, you can simply search for that individual employee and start run the Talent Matching Algorithm to explore their fit score against multiple assignments – their Current Role, Planned Succession Role, and Aspired Role. With this, organizations can build succession plans that are not only vertical but also mobilize talent horizontally. The System Role complements this with the employee's top 3 best-fit roles across the organization using a completely non-biased calculation while the Customized Role predictor allows HR to explore new roles and determine fit. This feature is heavily used when business is going through an expansion or an M&A in which new roles could potentially be created and needs to be filled fast.
Development Plans
Once you are satisfied with the choice of an employee as the successor to a role, development plans can then be built within the system itself through Individual Development Plans (IDPs). TalentPulse uses data from employee assessments and technical ratings to ensure that development plans are customized to the individual needs of the employees. This way, training becomes not only more effective but the training budget is maximized as it gets targeted towards actual needs. As the learning is completed, candidates are re-measured to reflect any changes in the fit score.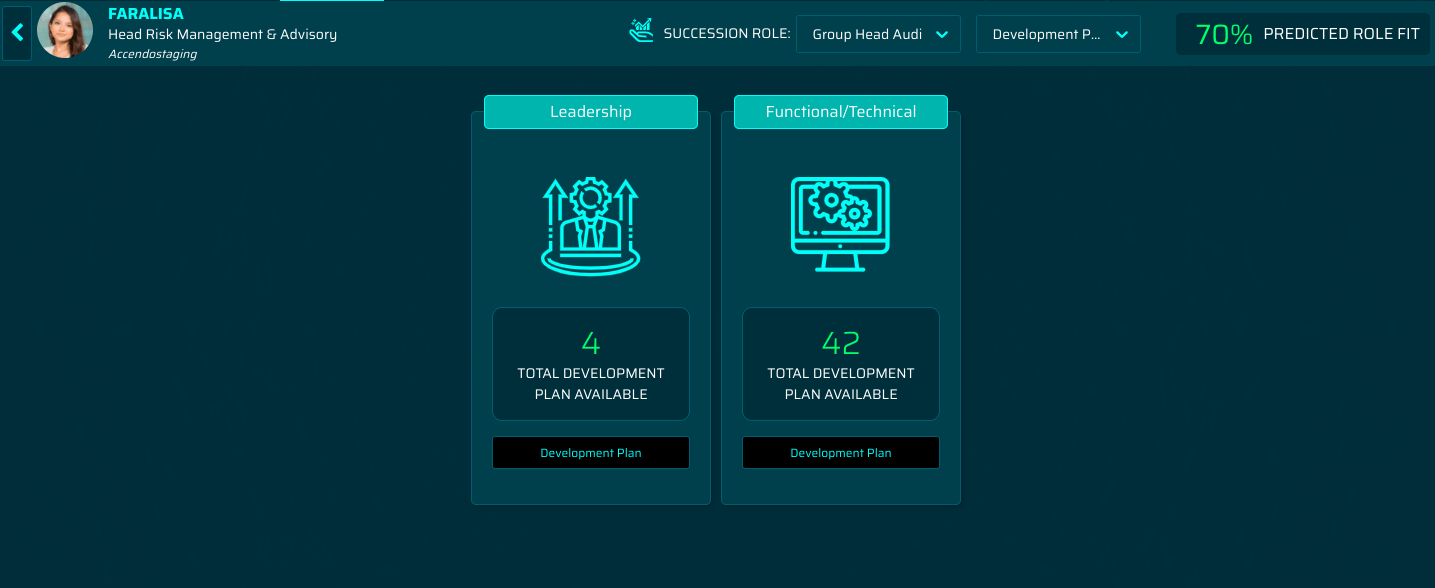 TalentPulse comes pre-integrated with several leading content libraries and LMS applications, You can choose between learning modules already available on the platform, load your own learning modules into the platform or select from learning courses available from our learning partners.
Talent Overview
Once employees have been measured, matched and identified as successors, it is important that HR and Management both have an easy way to visualize their organizational bench strength to ensure the organization is always futureproofed. TalentPulse gives instant talent visualization via the Talent Overview feature. A single click offers a complete view of the succession planning requirements across the organization. Positions marked green have at least 2 successors, yellows have 1 successor, while reds have none. Organizations should strive to achieve a fully green organization, which means every position is ready to be filled should the need arise.
For further guides on how to run an effective Succession Planning programme you can read our Ultimate Guide to Succession Planning here:
---