A winning talent strategy starts by bringing in the right talent
Use valid, reliable and scientifically proven tools to help make better hiring decisions
Hiring is one of the oldest yet most difficult functions HR and Business still face today. From managing too many applications to avoiding potential bias to picking the right candidate, hiring has so many potential pitfalls that make it tedious. Accendo reliably automates companies talent acquisition process from attraction to assessment ensuring manual intervention only during interview and that too being guided by data. Our talent assessment marketplace carries over 1000 tools ensuring we cover every possible hiring scenario you may face. Find the best fit candidate by measuring leadership, culture, agility, technical, digital and many more and finally comparing it to our success profiles. Our recruitment platform also optimizes the recruitment process by ensuring no matter how many recruitment dimensions you measure, you always get a single consolidated report.
Why Accendo's Recruitment Suite?
Choose from a expert curated library of over 1000 tools covering psychometrics, simulations, cognitive, digital and technical skills
Measure as many dimensions needed but always get a single consolidated report saving time and money and ensuring a speedy on-boarding process
All tools are delivered virtually making testing simple, quick and easy no matter where your talents are
Recruitment Made Better With Our Virtual Assessment Centre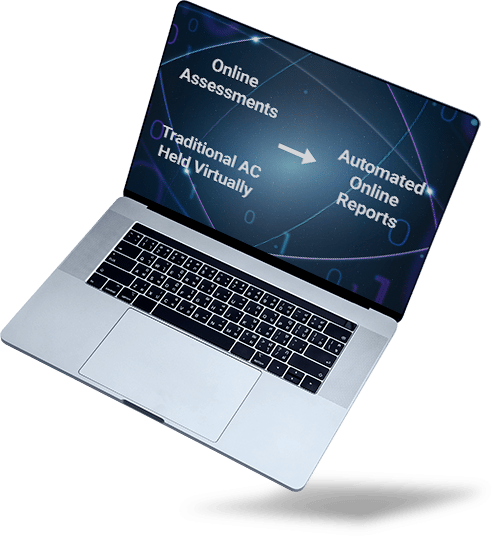 Quick turnaround deployment time allows HR to focus on strategic tasks
Reduce extensive overhead and logistics costs
A blended, validated measurement approach increases accuracy of results
Able to cater for large scale assessment initiatives across all job levels for various talent needs
Enhanced candidate experience with greater convenience and engagement without disrupting candidates' schedules
Accendo's Streamlined Digital Journey For Candidates
Setting Up The Platform For You
Automated online application process to ease workload
Virtual Career Fair can be hosted as an alternative for an exclusive experience
Experience Engaging Online Assessments
Multiple tools such as psychometrics & gamified assessments are used
Monitor real-time progress and completion rates
Receive Consolidated Report
Obtain report instantly upon completion of assessment
Report provides in-depth understanding of candidates' profile
Undergo the Assessment Centre Physically/Virtually
Validate candidates' profile through video interview
Run traditional AC virtually with in-built security features for materials
Await Decision From Organization
Identify group trends & insights from consolidated data for decision making
Dashboards enable talent identification & gap analysis
Our virtual assistant Ace acts as the candidate's buddy throughout the assessment process
Candidates who meet the minimum qualifying criteria will meet Ace in the next stage. Candidates will be welcomed by Ace who will be walking the candidates through the process and things to take note of during the assessments.
"Hey there, I'm Ace, your guide throughout this experience. Whenever you're ready, just click on the button below!"
Ace