Human resources are a dynamic component of an organization. People leaving and new people joining in their place is a common occurrence in today's corporate world. Making sure the right people are promoted or hired for the vacated positions is crucial for business continuity and success. Identifying critical roles and finding the right talent internally or hiring from outside and training them to take over the job when the need arises is succession planning.
Changes in leadership positions are inevitable. This can happen due to a variety of reasons such as transfer within the same organization (in the case of MNCs), resignation, critical illness or loss of life, retirement, sabbatical, or termination of employment. While all organizations are aware of these factors and their impact on organizational continuity, many still do not have a well-founded succession plan in place for critical leadership positions.
This lack of succession planning is highlighted in a survey conducted of around 2,800 HR leaders by Gartner's Global Research and Advisory firm. According to the survey held in January 2020, more than a third of HR leaders said they find it difficult to develop effective senior leaders and 45% reported that they struggle to develop good mid-level leaders. And only 50% of those surveyed said they are prepared to lead their organization in the future. See Succession Planning Digital Transformation and Succession Planning Model.
Ineffective succession planning or the lack thereof has a cost attached to it. Harvard Business Review researched to find out the cost of poorly managed CEO and C-suite transitions. According to the findings, an unsuitable hire for the CEO or other C-suite positions can reduce the market value by USD 1 trillion annually. And, if the right person is hired for the top leadership positions, it can improve the company's valuation by 20% to 25%.
While the findings from these surveys highlight the importance of a well-formulated succession plan, here are five reasons why you must put in place a succession plan for your organization: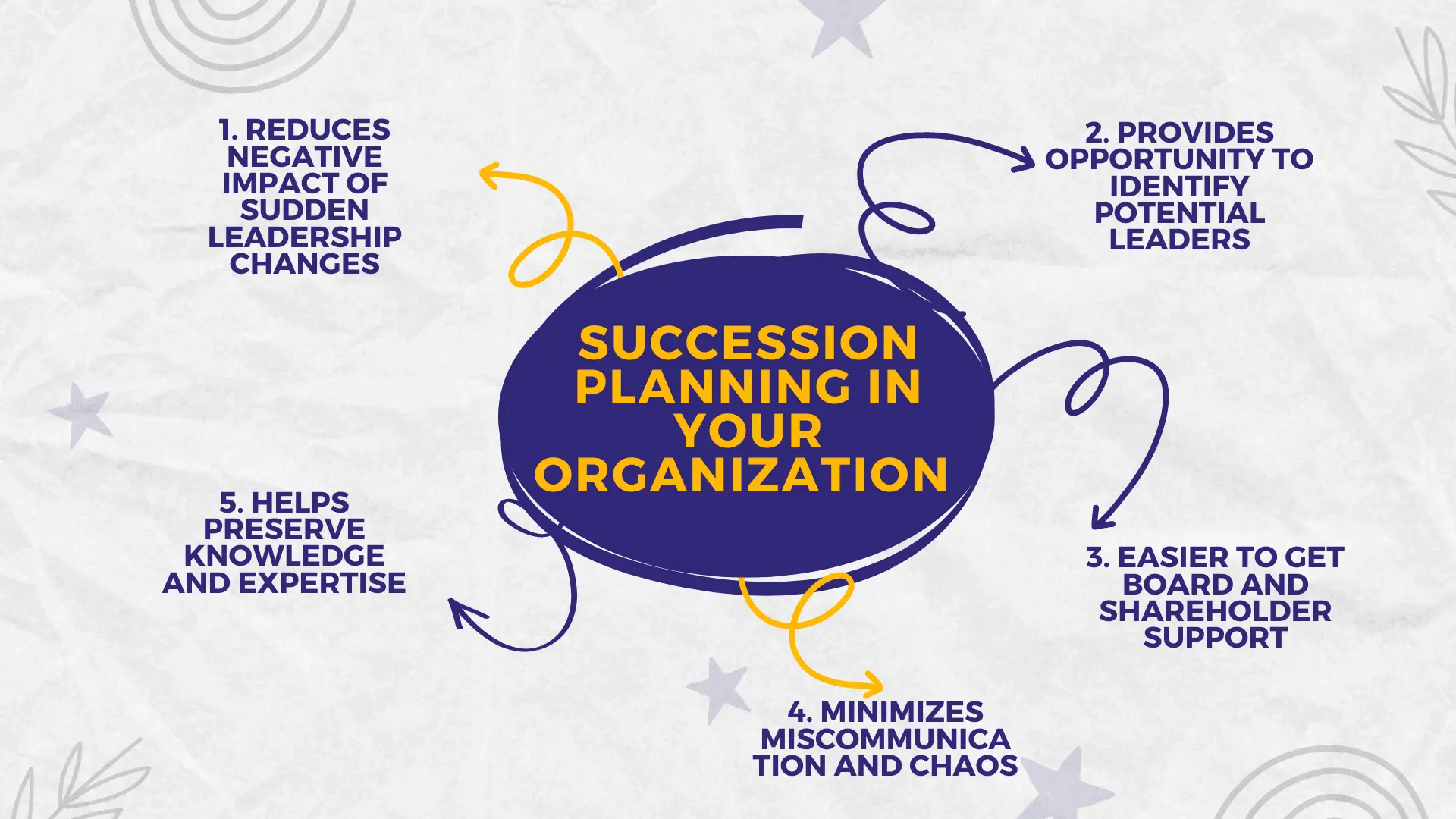 1. Reduces Negative Impact of Sudden Leadership Changes
An article by McKinsey & Company titled Successfully Transitioning to New Leadership Roles says that "when leaders struggle through a transition, the performance of their direct reports is 15 per cent lower than it would be with high-performing leaders. The direct reports are also 20 per cent more likely to be disengaged or to leave the organization." Further research says, "40% of new CEOs fail to meet performance expectations in the first 18 months".
Either of these scenarios can spell a death sentence for an organization. If it manages to survive as an unsuitable leader, it will still take the company years to find its footing, streamline the business, create a positive work environment, and rebuild market value.
2. Provides Opportunity to Identify Potential Leaders
A succession plan identifies employees who can be promoted to leadership positions when the requirement arises. This information can help understand each candidate's strengths, weaknesses, and leadership style. It also provides an opportunity to train the chosen employees on different aspects of the business and allows them the time to build leadership ability. 
Additionally, the buffer period gives the management the time to assess which person is suited for which role in the future and it provides the employees with a chance to understand the role and do a skill-gap analysis and get the required knowledge if they want to pursue the opportunity.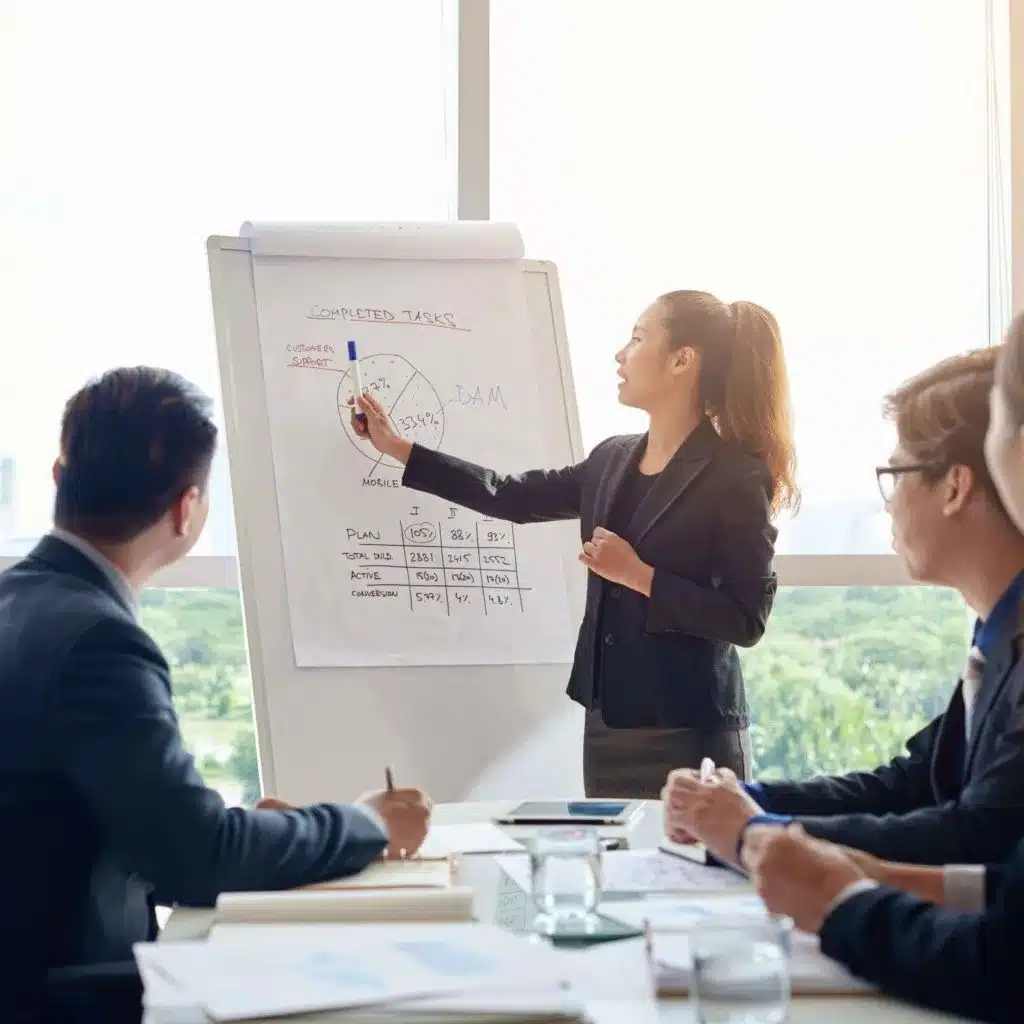 "More than a third of HR leaders said they find it difficult to develop effective senior leaders and 45% reported that they struggle to develop good mid-level leaders. And only 50% of those surveyed said they are prepared to lead their organization in the future". (Gartner, 2020)
For the smooth functioning of the organization, it is important to have the support of the board members and the shareholders' approval. It is especially critical during transitions in senior leadership positions.
If the board and shareholders are aware that the organization has a strong succession plan in place for critical positions and it has their approval, it will be easier to get their endorsement for the new hire. This will not only make the job of the incoming leader easier, but it will also ensure important decisions get board approval in time.
On the other hand, if there is no succession plan in place or they do not have faith in the new hire's ability to steer the company successfully, it can strain their relationship with the management, delaying critical decisions. And the market and brand value of the organization can be impacted negatively.
4. Minimizes Miscommunication and Chaos
A well-formulated succession plan which clearly states who will succeed if the CEO/senior leader resigns or a senior position becomes vacant leaves no room for confusion, miscommunication, and unnecessary chaos when the time comes to implement the succession plan.
If the management is vigilant, a succession plan also helps address disruptive office politics well in time before a new leader takes charge. This again helps the new leader work effectively and makes sure the organization's culture and environment are not adversely impacted due to a change in leadership.
5. Helps Preserve Knowledge and Expertise
Employees who have learned and grown are a treasure trove of knowledge. They have expert know-how of the internal workings, systems, and processes of the organization. Over the years, these employees have also gained insight into the company's industry and its competitor's business. This is valuable knowledge.
When such employees are not given further opportunities for growth, they tend to explore options outside. If this happens, the organization not only loses a potential leader but also knowledge and expertise which can help nurture and train the younger workforce.
As we can see from these reasons, a succession plan is a necessity. It enables the organization to plan, helps save costs associated with external hiring, and makes the company attractive to potential hires as well. 
We at Accendo specialize in building technologies that can enable HR leaders to make a robust succession plan. Our Talent Management software helps you identify potential candidates easily, eliminate bias, and take into consideration vertical and lateral moves while creating a plan. Get in touch with our team today to know more about Accendo's Succession Planning module.