We associate hoarding with clutter and messy apartments but it doesn't just apply to household objects. Talent hoarding in workplaces occurs when managers have trouble sharing their team's skills and time. This practice can hurt someone's career and damage an entire organisation. Our article dives a little deeper into talent hoarding and how your leaders shift from talent hoarding to talent sharing in 4 ways.
For years, internal mobility has been hindered by external recruitment. Many skill and capability needs were grouped into open roles which would be filled by new candidates. When opportunities arose for employees to take on cross-functional projects, managers were hesitant to loan them to other teams.
As the war for talent escalates, leaders are turning their attention toward skills visibility and talent agility. Internal mobility isn't just another powerful hiring tool. It is also a reliable tool to improve engagement and retention. Research has shown that more than 70% of employees want to pursue advancement opportunities within their organisations.
However, one threat can sabotage even the best internal mobility strategies – talent hoarding. Talent hoarding is a widespread issue in the workplace. 50% of employers report that their managers are guilty of hoarding their talent. Our article dives deeper into the topic and how to shift to a talent-sharing mindset with internal mobility.
According to Professor Daniel Kahneman, talent hoarding is referred to as "loss aversion". He explains it as our aversion to losing something rather than being attracted to acquiring it.
Talent hoarding occurs when managers keep talents on their team for longer than is good for the company or the employee. There are even instances where managers attempt to offload poor performers onto other teams.
It is a real problem and it occurs more than it should. This practice can hurt an employee's career and reflect poorly on the company's culture. It can lead to increased turnover and may even harm the employer's brand.
The Dangers of Talent Hoarding
While every company wants good talent in their teams, it can be hard to let them go. However lucrative it may sound in the short term, experts believe it is inefficient in the long term. When left unchecked, talent hoarding can snowball into the following risks:
| | |
| --- | --- |
| A surge in turnovers | A lack of internal mobility is the second most common reason for employees to look for jobs elsewhere. When managers hold their employees back, they are more likely to look for new opportunities outside of the organisation. |
| Decreased productivity and capacity | When talent hoarding is prevalent in your organisation, your employees cannot be used to their full potential. This prevents your business from achieving its full potential – and possibly won't be able to stand the competition. |
| Increase in silos | Silos hinder innovation, halt productivity, and leave managers incapable of executing strategic priorities. When employees are unable to see beyond the opportunities, projects, and skill needs within their teams, silos and communication breakdowns arise. |
| Sluggish career development | Skill-building efforts become stagnant, causing employees to find it difficult to participate in projects, gigs, and other experiences. These opportunities are crucial in an employee's learning curve. Without them, they are unable to develop new skills at a competitive speed. |
Employees who want to advance are often the ones who contribute the most to organisational growth. However, when employers fail to help their employees learn and develop, they stagnate and their professional careers suffer. RolePoint, a talent acquisition software company, looked at why employers should care about the pitfalls of talent hoarding. Here's what they discovered:
50% of managers

admitted to talent hoarding, or keeping the top talent in their current roles

85% of organisations

say they failed to demonstrate the key behaviours in effective talent mobility

45% of employees

who changed companies in 2014 and 2015 said they left due to the lack of advancement opportunities

55% of employees

rated the opportunities to use their skills and abilities at work as "very important" to their job satisfaction

90% of HR professionals

said an employee recognition program improved engagement
Employers who invest in their employees instead of holding them back allows the company to grow. At the same time, retention improves and employees are happier, more engaged, and more productive. So, how can companies solve this problem? The answer lies in building an internal talent mobility program.
Internal Mobility Best Practices
| | |
| --- | --- |
| Leaders who hold onto high performers instead of encouraging them to expand their careers end up losing them anyway. | Replacing an employee is twice or more expensive, including lost knowledge, contacts, and morale than that of a person's salary. |
An effective internal mobility program is critical in countering this. Companies promoting internal mobility have a higher chance of identifying talents who can be moved from role to role.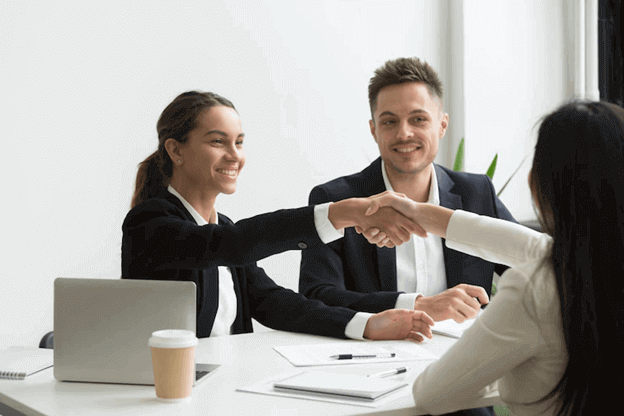 Prior to building a scalable process, technology needs to be involved in the strategy. Without great tools, companies won't be able to set baselines or measure success based on the benchmarks to achieve. A company's internal mobility program should encompass the following best practices:
C-Suite Buy-In

Securing buy-in from the management team paves the way for internal mobility to encourage positive growth within the company. Employees should also understand the importance of talent mobility in their career paths. 

Current Employee Skills Map

Data on employees and their current skills are often siloed. This is why technology is important. It helps to map out these skills and keep track of their progress so managers can access the talent-ready pipeline. 

Unified Internal and External Pipeline

When it comes to recruiting and retaining talent, unifying internal and external resources can help to boost internal mobility. It also means that all candidates are considered for all jobs, even if they're currently staff in that company. 

Align Incentives and Behaviours

Managers with talents in their team would not give the person up as they don't know who the replacement is. Aligning the incentives and behaviour can allow employees to be recognised while simultaneously exploring their talents, abilities, and interests. 

Build a Culture of Internal Mobility

A culture that supports internal mobility has several benefits for the company that practises it. 

 

It creates an environment for continuous learning and development as core to the health and success of a company.

It champions employee engagement and talent retention.

It encourages employees to stay with companies that invest in their careers. 

Create an Internal Talent Marketplace

Companies can look at their current and future needs, along with any obvious skill gaps before creating an internal system. This is where opportunities for mobility, new roles, or new projects can be shared with their teams. This becomes an internal job board where employees can enjoy and appreciate every opportunity that comes along.
How to Build an Effective Internal Talent Mobility Program
Creating a successful internal talent mobility program can seem daunting but it doesn't have to be. Not sure where to start? We have prepared a few simple steps you can take to make the process easier.
Step 1: Align business needs to talent supply
The benefits of internal mobility are critical in any talent acquisition strategy. It improves the employer brand, retains top talent, and helps the company be more strategic about recruitment. Build a business case by aligning the needs to recruitment metrics and business/skill demands.
Know what good looks like by benchmarking against a list of globally validated success profiles. The value of internal mobility comes from its ability to create loyalty between employees and employers. Investing in an employee's career shows that they are valued in the company.
Step 2: Develop purpose, strategy, and objective
Creating a successful plan ensures the internal mobility program has received buy-in from all levels involved. The lack of one can become a barrier to an effective internal mobility program. Once it is well-received, map out the existing skill sets and the critical areas for upskilling.
Build a cross-functional team to ensure the program runs smoothly. This team might include talent acquisition, learning and development, and hiring managers. Centralise all employee data, such as aspiration, mobility needs, and desire, and align these to talents' goals for career growth.
Step 3: Choose the right platform and technology
A robust platform can help to connect employees to job opportunities while delivering an individual and engaging experience. It can also unlock talent insights and provide companies with a collective view of the talents' capabilities for multiple roles.
The right technology can help to thoroughly assess talent, identify with confidence, and analyse data. Benchmark the talents using talent assessment tools to measure preferences and behaviours at work. Use technology to gain a better understanding of employee career goals and skill sets and measure success.
Step 4: Engage with employees
Send out internal memos to encourage employees to register for the program and submit their profiles. Additionally, you can publish them on an internal careers site and share them on social media to amplify the company brand.
Engage them with targeted content about careers, learning opportunities, and upskilling opportunities. Recommend individual development plans based on their career paths and regularly review the program to ensure it meets your success criteria.
Internal mobility is a key pillar of an effective talent strategy. It delivers broad and long-reaching benefits which allow companies to fill urgent skills gaps. Equip your company with the workforce of the future by using internal hiring as one of your greatest sources of talent.
Like what you are reading?